In Uncategorized
Α workshop on "Communication Strategy and Strategic Marketing for Cultural Organizations"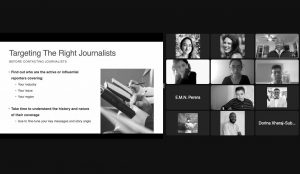 The online 3-day workshop on "Communication Strategy and Strategic Marketing for Cultural Organizations" has come to an end, with 11 Heritage Managers from various countries gaining valuable insights on how to effectively communicate and manage communication around a crisis or issue. The workshop was held from 10 to 12 March 2023 and was attended by participants from Africa, Asia, and Europe.
The participants were trained by workshop instructor Derwin Johnson, an independent senior communication consultant with over 30 years of experience as a journalist, communication executive, and educator. Johnson is currently senior counsel to APCO Worldwide and PharmApprove, advising clients on how to develop media content and drive local, national, and international media relations campaigns.
The workshop equipped the participants with the necessary tools and techniques to communicate effectively through traditional, new, and social media. They gained insights on how to anticipate media conduct and provide strategic and tactical guidance to improve their communication efforts.
Participants engaged in various group activities that allowed them to play the role of an organization involved in a real, evolving initiative with multiple reputational implications. This included creating communications content for all social media and websites, writing blogs, and conducting interviews to better communicate their organization's projects. Participants also learned how to communicate effectively in the event of a crisis situation through a crisis simulation exercise. Johnson's expertise and guidance were instrumental in helping the participants develop their communication skills and abilities.
The workshop concluded with a commitment by the participants to apply the techniques they learned to their respective organizations. They will meet with Johnson again on 20 March for a follow-up tutorial where they will have the opportunity to ask questions on how to improve their work and improve upon their final assignments.