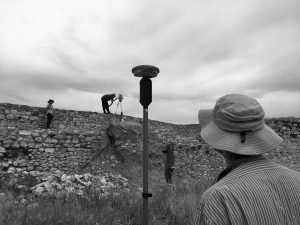 HERITΛGE is happy to announce its new academic certificate, DIGITAL TOOLS FOR CULTURAL HERITAGE, in cooperation with Belgium's HOGENT University. The certificate is a one-semester, part-time European Credit (ECTS) bearing program aimed at students as well as professionals. It integrates heritage management with geomatics and is delivered online to enable students from around the world to join. 
Upon completion of the course, participants are awarded 30 ECTS credits that correspond to 50% of the academic credits for a full year. The program held its first, pilot run this past autumn semester and is now accepting applications for the academic year 2023-2024 (starting October 2023). 
Digital Tools for Heritage Management is a specialized course on spatial data (GIS), laser scanning, 3D modeling, heritage management, and community management. 3 months of online, mainly asynchronous classes (and some live ones) are rounded off with fieldwork which is focused on the entire workflow from data acquisition to data publication.
HERITΛGE & HOGENT decided to offer this comprehensive program, to answer the needs of students and young professionals from a variety of heritage-related or adjacent disciplines e.g., architecture, land surveying, archaeology, heritage management, conservation, geography etc. 
The focus on state-of-the-art technological skills,  as well as on international collaboration, communication, and other future-proofing skills sets this Digital Tools Certificate apart and ensures its relevance to the current and future job markets. 
Find out more and apply here.