In Uncategorized
HERITΛGE at the European Humanitarian Forum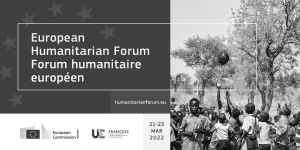 HERITΛGE participated in the first European Humanitarian Forum that was hosted by the European Commission's Civil Protection & Humanitarian Aid Directorate and France22 in Brussels, Belgium on 21-23 March. The Organization hosted a Humanitarian Talk on "The role of the private sector in fostering local identity and culture: emergency preparedness, relief and reconstruction" in cooperation with Greek Foreign Ministry. 
The event's goal was to highlight the private sector's potential contribution to the preservation and strengthening of local identity and cultural heritage, from emergency preparedness through to relief and reconstruction efforts in crisis zones, achieving inclusiveness, resilience and sustainability. Cultural heritage (tangible and intangible) are directly tied to local and/or national identity and subsequently to social cohesion and resilience and can become important tools during humanitarian crisis.
"It is unfortunate, but timely, that the Forum is being held while we are facing the war in Ukraine," Greek Foreign Minister Nikos Dendias pointed out while addressing the Talk. "Our goal is to highlight the role that the protection of cultural heritage can play in the prevention and mitigation of humanitarian crises," he added. 
Watch the Talk here.