In Uncategorized
Making Heritage Together: Archaeological Ethnography and Community Engagement with a Rural Community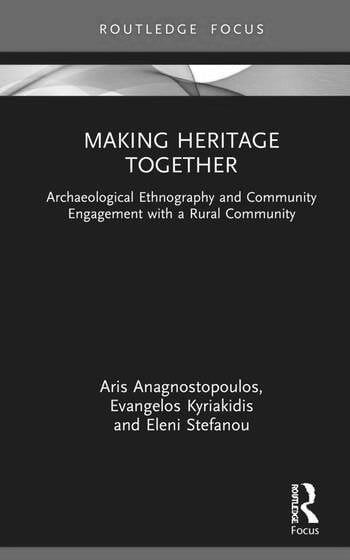 Our recent publication Making Heritage Together: Archaeological Ethnography and Community Engagement with a Rural Community, by Routledge, is co-authored by Aris Anagnostopoulos, Lena Stefanou and Evangelos Kyriakidis. It has been long in the making, and the distillation of many years of community engagement and collaborative knowledge creation with a rural mountain community in central Crete, Greece. The project this book stems from is archaeological research initiated in 2011 by Evangelos, aiming to investigate and publish the material from three Minoan peak sanctuaries in the wider area. From quite early on, the project involved ethnographic research to inform and enrich the archaeological record, but soon enough the community took over and pushed the ethnography towards more recent tangible and intangible heritage.
This book aims to record and discuss the methods and activities of ethnographic research that spans nearly a decade. We show the rationale behind setting up collaborative actions in the field and present the strengths and the shortcomings of our research and activity. It shares methods from artistic research, ethnographic action research, and experimental archaeology and tries to spell out in detail the steps taken and the local, regional, and national context in which these were set out. Essentially it aims to show how ethnographic research should be an initial and central part of every heritage project as a method that both creates spaces for the production of knowledge on an equal par, as well as enables heritage workers to understand better the local context, as well as the needs, capacities and hopes of the people they work with.
Making Heritage Together is the second book in a series of planned publications, in dialogue and critical engagement with the first one in the series A Community Empowerment approach to Heritage Management, that Evangelos wrote in 2019, and anticipating the third, mainly archaeological book that is forthcoming. It shows how even a small project like this profits from multiple takes, approaches, and methodologies, to produce good practices and aephoric developments that are in sync with local communities.
Order now.