In Uncategorized
Greece wins case over Sotheby's for an 8th-Century BC Horse Statue
In April 2018, Sotheby's listed a bronze horse, in the Corinthian style and unmistakably from Greece, for auction. The Greek ministry of culture became suspicious of its origins after finding out it was purchased from Robin Symes, a notorious art dealer who was a key player in an international criminal antiquities looting network. The Ministry requested the lot be withdrawn for sale until its background could be researched thoroughly.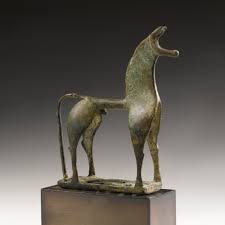 In an unusual response, Sotheby's and the horse's owners, the Barnetts, sued the country, requesting permission to sell the horse and seeking reimbursement for court costs and attorneys' fees. If successful, the case could have put the onus on source countries to prove that items have left their borders illegally.
Dr Evangelos Kyriakidis, director of the Heritage Management Organization, says: "Currently the onus of proof lies with auction houses who need to ensure the items they sell do not violate any legislation. This ruling strengthens this requirement and makes it unlikely to be challenged again any time soon.
"There is, however, one aspect that may soon prove quite important. The appeals court decided that mobile items of heritage (like their immobile counterparts) are part of the sovereignty of source countries and therefore are not subject to the same rules as all other business transactions."
You can read more background on the case here.