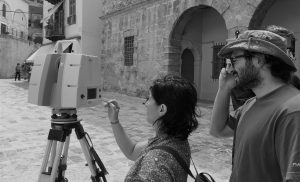 Hurry up and book your place for one of our two cultural heritage summer schools. You can attend online or on location in Greece.
Our summer schools will this year take place in the town of Nafplio, Greece's first capital and a few kilometres away from the archaeological site of Mycenae, and on the Cycladic island of Paros. The workshops are designed both for those new to the respective fields and for professionals already engaged in their field who wish to pursue research, training, and professional development.
Community Engagement Summer School – Paros Island, 18-30 June 2023
Join HERITAGE for two weeks on the Greek island of Paros for our annual Engaging Communities in Cultural Heritage Summer School.
Community engagement has become a mainstay in the public programs of heritage institutions worldwide. In this hybrid (physical/online) program we will draw from our long experience with community engagement through heritage. We will collaborate with two local initiatives from the Greek island of Paros: the Paros Festival, an arts and heritage grassroots festival with a remarkable volunteer base and significant impact on the community, and with the local oral history initiative Ai Mnimai (The Memories). Both initiatives will help us discuss the ways in which research can lead to collective modes of knowledge creation and the preservation of local heritage.
The course duration is two weeks, with meetings, interviews and enough time to complete assignments.
In-person students: will attend the online component of the school from Paros, but also will participate in person in ethnographic and oral history research. They are expected to act as the 'embedded researchers' of the online research groups formed during the summer school. Hence, students will be trained to employ various ethnographic techniques, such as direct and participant observation, interviews, focus groups.
Online students: will attend online lectures, participate in online short exercises and research meetings. They will also conduct online interviews with key members of the local community. Results of the ethnographic research will be presented in a podcast.
Find out more and apply here.
Digital Tools for Cultural Heritage Management – Nafplio, 15 May – 19 June
Digital Tools for acquiring, processing, managing and analyzing spatial data are crucial for the sustainable management of cultural heritage and allow a better understanding of the objects under study. Laser scanning, photogrammetry, topography and GIS are important tools to facilitate this complex management process.
HERITΛGE, in close collaboration with HOGENT University (Belgium) has organized three integrated and consecutive specialist courses on various topics in geomatics to help heritage managers in their work:
● GIS
● Photogrammetry and images-based 3D modelling
● Laser scanning
The theoretical aspects will be delivered online and on-site tasks will be organized asynchronously to obtain practical skills. In addition, participants will have the the opportunity to practice their newly aquired knowledge of digital tools with in- person support from the instructor. This option to practice Photogrammetry and Laser Scanning in the field is available for those who are able to travel to Greece.
The field school will be organized in collaboration with the municipality of Nafplio, Greece, and aims to document some of the city's the most historically significant structures. The field school serves as the education arm of a larger HERITΛGE research project in collaboration with HOGENT, ETH Zurich, Leica and other partners aiming to create and promote applications for the use of 3D documentation for heritage management.
Find out more here.
* Please note that these specialist courses can be booked individually as well.